When you add images to your WordPress blog, you can transform your website into something aesthetically pleasing.
According to statistics, blogs with images receive 94% more views.
Whether you have been working on WordPress for while, or you are new to it, you might have faced various issues related to images.
It can be any type of error; for example, you are uploading the image, and it appears to be broken.
In this post, we'll show you how you can fix the common Image Errors in WordPress.
You can go through the whole list, or if you want to skip and get to a specific solution, you can jump to it from the category below.
Featured Image Not Showing
Many WordPress themes allow you to display featured images with your article. Featured image is a picture that appears at the top of the post, inside archives and search results.
The featured image is listed on the right side in the Meta box.
If your featured image is missing Go to Posts -> Edit Posts and click on the drop down "featured image".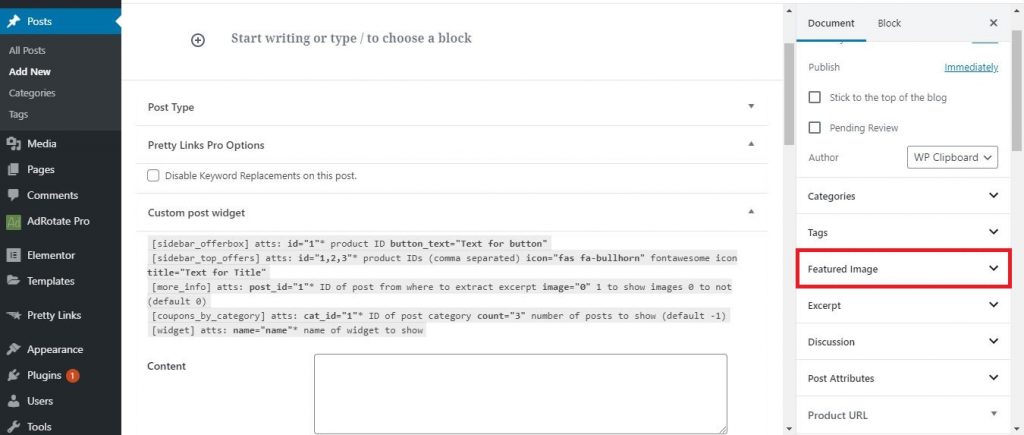 You will see the option of "set featured image."
Click on "set featured image" and upload or add an image from library.
Select the featured image you want to add, and click on "set featured image."
You can see the featured image button in the meta box like this:
Featured Image Is Appearing Twice
Featured images can appear twice on your post  if you add it inside the post editor as well.  
Remember, when you set a featured image, you don't need to add the image with the content of the post. It will automatically appear at the top of the post.
If you add your featured image inside the post, it will appear twice. 
Reminder of Missing Featured Image
It is possible that at some point, you forget about adding a featured image. 
Also, if you run a multi-author website, it's possible that some authors may not be aware of the functionality of featured images.
You can avoid either of these cases; you can prevent "missing featured image error" by installing and activating "Require Featured Image Plugin."
In case you or your other authors forget to upload the featured image, the plugin will display a notification box. It will inform you that the post requires a plugin. 
Without adding a featured image, you will be unable to publish the post.
Set a Default Featured Image
Finding an appropriate featured image for each post can be a challenging task.
Sometimes you may not want to add a featured image, but your post can look dull without a captivating one. This is where default featured image can help.
You can download and install the "Default featured image plugin" 
Open plugin settings and click on select default featured image. 
You can choose the default featured image from the media library or download an image. Click on "set default image."
Your default featured image is set. Click on save changes.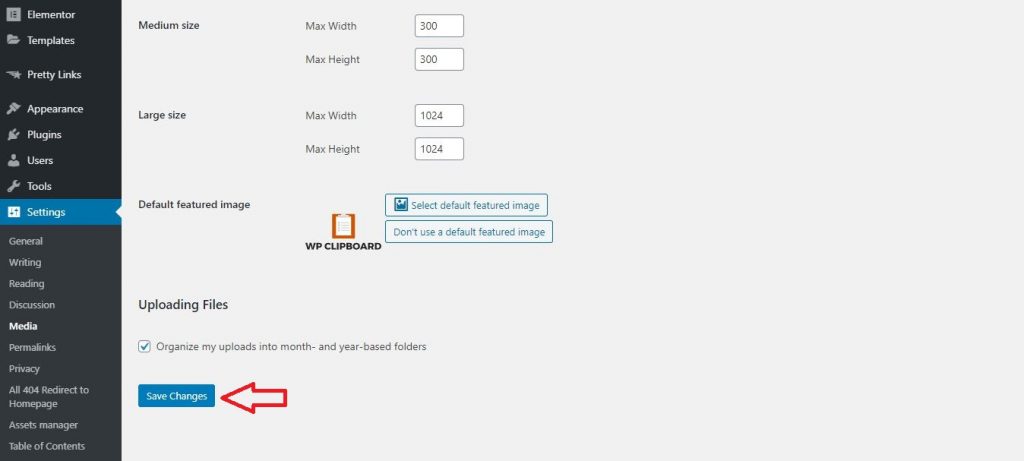 If you do not add a featured image in a post, the default-featured image will appear. 
Featured Image Error on Facebook Share
Sometimes when you share a blog post on Facebook, you see the incorrect featured image or thumbnail error?
There can be many reasons why your post's thumbnail is showing 404 errors. One of them can be that your featured image is smaller than the rest of the images with og: image tag.
While there are some plug-ins like Yoast SEO, that automatically includes thumbnails to avoid the error, you can also add them manually.
When you share a post through your website, and the thumbnail error shows up – Add the images manually to the post. 
Click on photo/video.
After adding the image, click on save.
No Images Are Appearing on WordPress Media Library
Occasionally, when you want to add an image to your post, and you get to the media library, it doesn't show images. Sometimes, the image can take a long time to load due to an error. 
Other than lagging and/or loading errors, the most common reason for an image not showing on your media library is due to the poorly coded WordPress Plugins.
Accidental third-party coding issues can cause library malfunction. Test out your plugins and check which ones are causing the error.
You can deactivate the plugins to resolve this error. Click on bulk actions, deactivate the plugins, and then return to the media library. 
After that, you can activate the plugins one by one to check which one was causing the issue.
Images on the Posts Are Missing After Publishing
Again, there can be many reasons why this may happen. However, there are two most probable reasons.
If you are a WordPress beginner, it can happen.
Suppose, you wrote a fantastic post, uploaded required images, and now, your post is ready to publish.
But wait; did you add images in the post after uploading it in the media library?
If not, your post will be published without images.
Add the images where required and then publish the post.
Another reason why the images not showing up after publishing can be due to plugin issues.
There can be plugins that show some coding error, and that causes the image to not appear.
You can look out for the plugin causing the error by deactivating them one by one. There is a deactivate button just under each plugin. Click on it and deactivate the plugin and see if the issue was resolved. 
Image is too Large- Crop Images in WordPress
When you upload images in the media library on WordPress, you can see the edit image option. 
When you click on edit, the image new tab will open with editing options.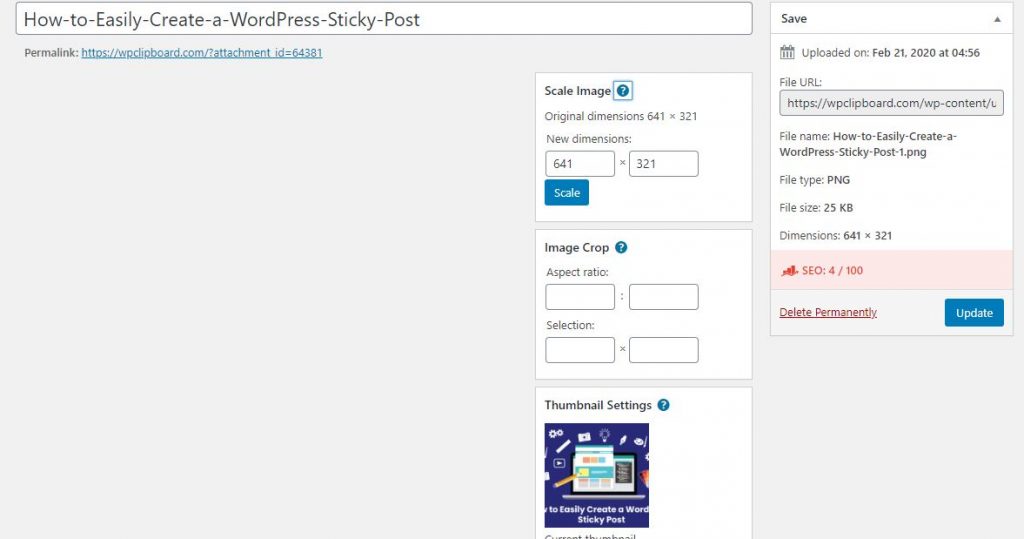 When you scroll down, you will see the option to crop.
Select the section you want to crop and click on the crop button, which is right above the image.
You will then get the cropped image.
Click on save to finalize the cropped image.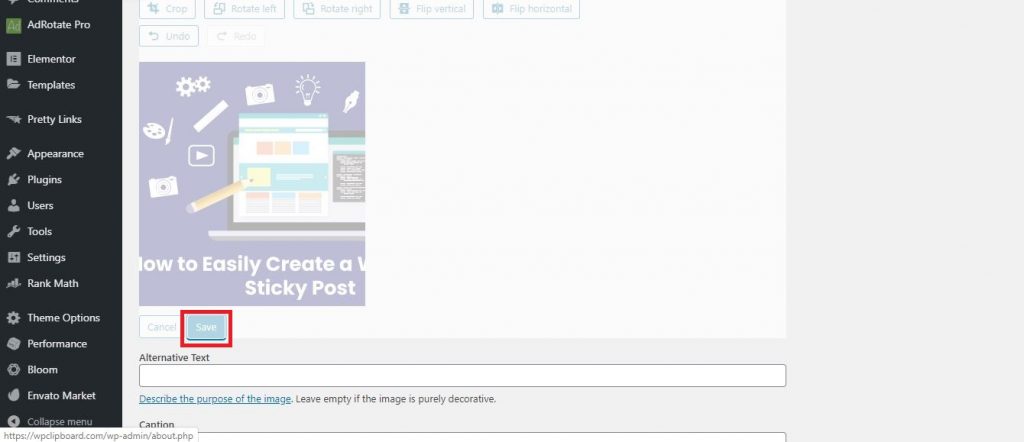 After saving the image, click on update. The image will be updated in the media library. 
Add Background Image in WordPress
The customized background image is the feature of WordPress themes.
If your WordPress theme allows adding a background image, you can set one.
Click on appearance>> customize to launch the theme customizer. 
If you see the option of the background image, then your theme supports custom backgrounds. If not, you can set the default theme.
Import External Images in WordPress
It is a question often asked when migrating to WordPress.
When you migrate to WordPress, some of the images in specific posts point to older locations.
Even when your images are appearing correctly, they are loading from an external source. You can solve this problem by installing and activating "Import external images" plugin. 
The plugin checks all your posts for external images. When done, you can simply import all those images with a click.
This is it for this post. 
So, was this article helpful for you?
Were you able to fix some image errors on WordPress?
Did we miss something?
Do let us know in the comment section at the bottom of this page.