Jean-Paul Sartre once said, "We are our choices." Choosing among multiple entities can be tricky and frustrating. Still, what matters, in the end, is that you made an informed decision."
That's what I'm here for today. If you are struggling to choose among WordPress and Squarespace, this blog post will help you make a smart decision that will be based on your preferences and needs.
Both WordPress and Squarespace are excellent tools to start off with. But like among any two things, they have some key differences. The thing is, you can't just easily shift from one platform to the other when you have started building your website.
To avoid any regrets and start working back from scratch or get to the hassle of migration, you must choose according to your needs and requirements. We will not only discuss all their comparative aspects in depth, but also tell you our own verdict on all of these aspects based on facts, separately.
Let's start with the most basic question; what are WordPress and Squarespace?
WordPress is undoubtedly the most popular platform for building a website or blog. There are two types of WordPress out there; the self-hosted version (WordPress.org) and the hosted one (WordPress.com).
Owing to its flexibility, most WordPress users opt for the self-hosted version as it is an open source platform and highly customizable.
In this post, we will be comparing the self hosted WordPress.org with Squarespace.
Before we dive in, let's look at the difference between WordPress.com and WordPress.org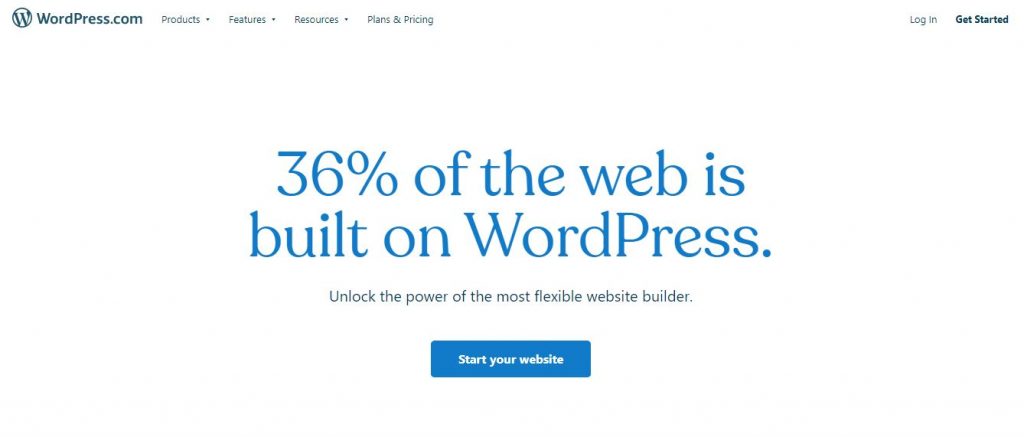 WordPress.com is a blogging platform that uses the same software as WordPress. org, but it is the hosted version. 
WordPress.com provides 1 free and 5 payment plans with enhanced features in all of them. The free version is a good choice for hobby bloggers. Still, when it comes to building a website, there are limitations.
In addition to several built-in features, you can also install extra plugins to enhance your website.
Self-Hosted - WordPress.org

When it comes to the self-hosted version i.e. WordPress.org, it gives you complete control over your website. 
Its source code is available under GPL, which means you can modify even the core files of the WordPress software. There are thousands of themes & plugins that can be used in this self-hosted version. Moreover, you can build your own theme or plugin and apply it to your site or blog.
WordPress.org is fantastic if you are looking to develop an eCommerce website – you can grow your online store without any limits. Any type of monetization is allowed in this open-source version of WordPress. Ads, affiliate links, sponsorships, everything works great.
Now, there are some cons to WordPress.org that may be important for you to know.
As it's clear by its title (self-hosted), WordPress.org doesn't offer hosting or domain names. You need to get it for your self and the process for selecting a web host can be confusing for beginners.
If you are looking to test out the waters before moving to a paid plan, you can also choose from various services that offer free WordPress hosting.  
Another concern is security. While WordPress itself is very secure, you have to be a little careful when choosing themes or plugins. 
The last thing, WordPress.org has a relatively steeper learning curve. Newbies can have a little trouble getting started with WordPress.org. But you can get unlimited online help from the WordPress community, and also, through blogs and video tutorials which are easily available online (for free). 
Now, let's move on to our other contestant, i.e.  Squarespace 

Squarespace is an all-in-one website building platform. It is not a free platform, but it does offer a 14-days free trial period.
Initially, Squarespace was released in 2014. Since then, this incredible platform has shown some promising growth and advancement in its features. Today, Squarespace hosts over one million websites.  
It is one of the most user-friendly platforms out there. Creating a website using Squarespace is simpler and quicker as compared to WordPress, but more difficult than Wix. The aim of this platform is to provide a code-free solution that can be used by beginners as well. 
Squarespace provides almost everything you may require to build a stunning website. Whether it be CMS, hosting, templates, apps, e-commerce, and whatnot. 
You can use this site builder for personal websites, small – mid-sized business, large businesses, and even online eCommerce stores. 
That's not it; there is a lot more to know and understand about Squarespace. Therefore, I will suggest you stick around.  
Before heading to a detailed comparison between these two platforms, you have to be clear about what you are looking for when choosing a site builder.
Questions You Should Answer Before Choosing a Website Builder
We have listed down some of the questions you should ask yourself before choosing a platform. Considering the answers and your requirements so you can make a wise choice.  
 

What is the purpose of your website?
Are you creating a website for personal blogging, a small-scale business, or a large-scale business? You also need to consider the niche of the website.
Is it a complex website, or a simple one?
If it's a large-scale business, you may require a complex website with multiple pages and features. However, you will only require basic tools for a simple blog site.
Do you require stunning visuals?
What is the design preference when it comes to your website? The website you want to create can be a simpler looking one, or it can have different themes.
 

Do you need customizable themes?
If your design preferences require a stunning website, you would have to use advanced tools to customize your theme according to your preference.
 

Do you have a team of professional web developers?
If you are a beginner, then what you really need is a code-free and an easy to use website builder. On the contrary, if you can hire a professional developer, then your choice can be different. 
Are you building an e-commerce site? If yes, how large scale is your website?
Building an e-commerce website requires different tools. So, the choice of the platform also depends on the scale and usability of your website.
 

Do you prefer manual processes, or are you looking at plugins for your ease?
Automation is one of the best blessings the latest platforms provide. If you are comfortable with manual processes, then your choice would be different. If not, you may need  to make a different choice.
How well do you know SEO?
It doesn't matter which type of website you want to build, you should have basic SEO knowledge. An SEO friendly platform is a plus.
Now let's discuss the detailed comparison between our Squarespace vs WordPress debate. We are going to cover 13 categories listed below.
And if you want, you can easily jump to one of these categories.
You do not need to have coding skills to use Squarespace or WordPress Let's find out which one of our two contestants is more easy to use.
It's a known fact that the customization freedom offered by WordPress is absolutely fantastic.
But is it user-friendly?
It certainly is once you get the hang of it, but it does have a learning cure. If  you are not tech-savvy, WordPress might prove to be a little bit difficult to get used to. 
WordPress doesn't have a built in drag and drop editor but you have the option to utilize fantastic page builders such as Elementor and Beaver Builder.
When you are writing a post or designing a page, WordPress doesn't allow you to view what you are doing in a  WYSIWYG (What you see is what you get) environment. You have to preview the post to see how it would look live.
Let me explain. Do you remember using the old cameras with photo reels?
In those times, we were not able to see if we had taken a good picture or not, unless it was washed and printed. The same scenario applies to make changes in WordPress.
Also, with WordPress you have to purchase a domain name and web hosting separately. And if you are newbie, selecting a WordPress hosting service can be time consuming. 
 Now let's move on to our next contestant.
Squarespace stands out as one of the top-notch website builders available today. While it may not be the simplest option, its intuitive drag-and-drop functionality undeniably makes Squarespace remarkably user-friendly.
Like, you made a text box and dropped it as the header of the home page; it will look exactly the same when you publish the website.
Even though Suqarespace is not as easy to use as Wix, it doesn't require any coding skills.
No coding skills and the ability to see the changes right in front of you (just like the visitors would see them) makes it easy for the user to navigate through Squarespace and to apply changes quickly.
Also, you don't need to purchase a domain and web hosting separately as Squarespace takes care of it. 
Best Website Builder for Ease of Use - Squarespace
 It is quite clear from all the details mentioned above that Squarespace is easier to use as compared to WordPress, especially for beginners. 
You can use a drag and drop page builder such as elementor in WordPress, but unfortnately the WordPress editor doesn't actually match how your content looks on the front-end website. 
Also, with Squarespace, you don't have to worry about purchasing a domain name and web host.
When it comes to ease of use, Squarespace is our winner.
Themes & Design Comparison
For any website, the design is an essential component. 
Where businesses are going digital, it is crucial to keep your web presence alive and you must strive to get noticed. According to a study, 94% of first impressions are related to website design. 
Lets look at the comparison between WordPress and Squarespace with respect to this category.

You might be aware of the vast library of themes it has in its repository. 
Installing a WordPress theme is quite easy. You just have to search for a theme you require and add it to your website. 
As WordPress contains over 7,464 themes, choosing one can be challenging. You can always go for popular multi-purpose themes, which can work for any type of website.
Moreover, you have infinite customizable options, which can help you design the website of your choice. However, you might need some coding skills to fully customize your theme.

Squarespace also provides designs and templates to help you to create inspiring websites.
You can keep the basic design of a Squarespace template and then customize it according to your content. You can preview the changes right in front of you easily. If you want further customization, then you can use a built-in custom CSS editor. 
There are over 70 templates to choose from, which are grouped in different categories, such as an online store, blog & podcasts, events, weddings, etc.
However, your choices for layouts with each template is limited and they are not fully customizable.
Squarespace themes are mobile-optimized and provide easy switching between templates.

Best Website Builder for Themes & Design - WordPress
When it comes to themes and templates, WordPress takes the lead.
Where WordPress provides a wide range of themes to choose from, Squarespace offers only 70 templates. WordPress presents customization options and flexibility. 
While Squarespace offers advanced and interactive templates, they are not very flexible. 
When it comes to themes & design, WordPress is our Winner
Comparison of Plugins & Apps
Let's evaluate the tools and features which are available or can be installed on these website builders. Plugins or extensions are essential to enhance the functionality of a website.

When it comes to plugins, WordPress beats all website builders.
WordPress is an open-source platform, so anyone can add tools or plugins. There are more than 50,000 plugins in WordPress, which can enhance the functionality of any website. 
However, you should remember a couple of things before choosing a plugin. 
You must choose an updated plugin so that there is no room for security breaches. Also, anyone can create plugins so remember to download one from authentic sources.

As Squarespace is a complete website builder, it doesn't provide a lot of options when it comes to plugins. The reason is that it has plenty of built-in apps and features, that are updated automatically. It is also fantastic for email marketing.
However, you can integrate certain third-party apps with your Squarespace account but mainly you will rely on built-in apps.
Some of the built-in tools include:
        Audio collection
        Email campaigns
        Image editor
        Google fonts
        Multiple template installation
        Product preview
        Sell digital and physical products
Best Website Builder for Plugins & Apps: WordPress
In this category, WordPress is the clear winner.
While Squarespace has plenty of built-in applications, but they are no match compared to the various plugin options you can choose with WordPress.
It's one of the reasons why people prefer WordPress. When it comes to adding features to your website, these plugins come in very handy.
SEO (Search Engine Optimization) Comparison
SEO is a very important aspect for any website. 
It is a well-understood term (or at least most of us think so). It generally helps to improve the search and visibility of any website and brings in organic traffic.
Apart from that, it offers many other advantages that really matter. Firstly, it improves user experience when someone visits your website.
Secondly, it promotes trust and makes your website gain more credibility.  There is so much more that can be gained by good SEO practices, but let's stick to our motive and find out which of our two contestants is more SEO friendly.

Different studies have shown that WordPress websites gain more organic traffic as compared to other platforms. 
It is a fact that most SEO savvy people use WordPress due to the freedom it offers. However, It doesn't necessarily mean that other site builders are not great for SEO.
WordPress presents various fantastic plugins to support your SEO –  Yoast and RankMath are the more popular ones.
If you are a doctor, then a website built with WordPress will be best for the SEO of your medical practice

According to a study by Ahrefs, WordPress had 45.5% domains with organic traffic as compared to 15.1% Squarespace domains.
Also, about 8% of WordPress domains get more than 100 organic visits monthly in comparison to 1.6% domains of Squarespace.
Let's move on to Squarespace and find out what it offers when it comes to SEO.

As mentioned above, Squarespace sites tend to receive less organic traffic as compared WordPress.
That being said, it performs better as compared to Wix when it comes to SEO. You can also easily optimize Squarespace images to boost SEO.
These stats are also influenced by the fact that most SEO savvy people choose WordPress over Squarespace  (or any other CMS platform).  
Best Website Builder for SEO - WordPress
First things first, the stats given above are changing every second and there is quite a lot to explore if you are using Squarespace. 
That being said, if we talk about SEO, WordPress is our clear winner as it surpasses any other site builder in this category. 
Whether you run a small or  a corporate business, your foremost priority is the security of your website. Unfortunately, this essential aspect is often neglected, resulting in security breaches.
According to stats, there is a hacker attack every 39 seconds.  Every website is at some sort of a risk. You need not wonder, why you require a secure website builder.
The WordPress security entirely depends on you and the hosting provider you choose.  WordPress provides complete control over your website, and your sites security depends on how you manage it.
The process includes sorting out an SSL certificate, regular updates & backups – which can be a little challenging.
There are many WordPress Security Plugins you can choose from to help secure your website.
According to WordPress statistics, 52% of vulnerabilities are caused by plugins. But, if you download updated ones from credible sources, then you are unlikely to face any issues.
If your plugins are outdated, they can even cause your website to crash. That's not all, some hackers create free plugins , so that they can hack your website through the plugin's backend code. So, keep an eye out for that and try using reliable plugins and themes instead of cracked versions.
You have to be a little careful with WordPress as it is not only the most popular CMS, it is the most attacked platform as well.

As Squarespace is a self-hosted platform, the company is responsible for security, not the users. You need not to worry about the data backups and updates. Squarespace will do it for you.
The regular plan includes an SSL certificate. So, the platform ensures data of your users is protected.
SSL encrypts all the data that is uploaded on your website.  If you are running an eCommerce store using Squarespace, it protects your customer's information automatically.
In the event your site gets hacked, Square is responsible for fixing it.
Best Website Builder for Security - Squarespace
While there are a number of ways you can secure your WordPress site. Squarespace is our winner here 
Yes, WordPress  also provides a number of security plugins, but  we can't deny the in-built security features offered by Squarespace. 
As WordPress is more famous than Squarespace, it is prone to cyber attacks. Moreover,  Squarespace handles the security for you.
Whether or not you buy an advanced plan, you have an SSL certificate by default. Consider it a default bonus, no matter which plan you opt for.
Control over Website's Functionality
Whether you are a hobby blogger or you run a business website, it's good to have full control over your website.
When it comes to the control you have over your website, WordPress tops the list. 
It provides a vast library of plugins, to help you enhance your site's functionality.
You can make almost any type of changes to your website, and there is a plugin for every feature that you require.
Want to add a social media share button? Install a plugin and add the button to your website.
You name it, you will find it. You can find a plugin for almost everything.
However, you won't find everything in a single interface as you'll need to search for plugins that you require. But this effort is worth it because you get a huge advantage of flexibility and functionality.
On the other hand Squarespace has certain limitations. If Squarespace flags any content that conflicts with their policies, it will remove the content.
Though you have certain control over your website, there is no option of downloading a complete database copy. It means that you don't completely own your website. Consider it a partnership and you lack the veto power.
Moreover, when it comes to exporting your content, Squarespace allows you to export .xml files, whereas WordPress presents many tools to help the users to export and backup files.
With Squarespace, you can only export data such as gallery pages, regular pages, images blocks, text blocks, and comments. In simple words, you can only export the product data.
A bunch of data can't be exported, such as; folders, album pages, product pages, event pages, audio, and video blocks, etc.
Best Website Builder for Website Control - WordPress
When it comes to control over the functionality of the website, WordPress is the clear winner. 
Customer Support Comparison
Customer Support comes in handy when any one of us gets stuck with a technical issue. But not all  website builders give proper attention to this aspect as some tend to focus more on upgrading their software features.
Let's see which of our two contestants provide more optimal customer support.

As it is an open-source, WordPress doesn't really offer much in this regard. But the WordPress community of developers is famous for the help they provide to their fellow users. Moreover, you can find many premium plugins and themes where the creators provide customer support.
The WordPress community is a great platform to get your issue resolved. Still, it's not always responsive, or more specifically, the help comes in quite late sometimes. WordPress does not have any specified team available 24/7 for customer support. 
You can also find solutions to most problems by studying or watching tutorials.  There are various groups on facebook that offer help and you can also find online forums to get the solution to your issues.
Now let's move on to Squarespace.

In contrast to its competitor, Squarespace offers 24/7 customer support through its email and live chat. 
As mentioned earlier, Squarespace is more of a user-friendly platform. Keeping this in their vision, they are offering customer support to serve their customers better. 
Best Website Builder For Customer Support - Squarespace
When it comes to customer support, Squarespace is our clear winner.
The best part is, all their pricing plans include 24/7 customer support and usually respond in less than an hour.
When it comes to finding the best website builder, you need to look beyond things like design, SEO and security. 
After you build a website, the most challenging part is the maintenance process. The website builder you choose should be easy to manage, update, and maintain your content for the entire lifetime of your website.
WordPress is indeed a great website builder but if you don't monitor your website manually, then your website is at  risk. You need to take responsibility for your site's upkeep or hire a reputable maintenance service.
WordPress regularly comes out with new updates to fix bugs and improve security. Still, You have to keep your themes and plugins updated  so that there are no security breaches. 
Maintenance with Squarespace is as easy as a flip of a switch or even better. You don't have to do anything.
Squarespace has got you covered. The platform tests and updates your website automatically. While there are fewer updates but it is so convenient that you won't even know when your website is updated.
As the website builder automatically updates your site, you can spend your time on more important tasks, which need your attention.
Best Website Builder for Maintenance - Squarespace
Squarespace is our winner in this category. It is hassle-free as the platform manages everything for you.
While WordPress provides a number of maintenance plugins, you don't have to download any plugin or add-on with Squarespace. Thus, you can save a lot of time and effort.
Editing Through Tab or Mobile
Where businesses are going digital, you are on the go all the time. Everyone needs everything at the palm of his or her hands. 
Accessible anytime, anywhere, just with a tap.
Your website builder should be good enough to help create content from any device. You should not be confined  to your desktop or laptop.
Lets look at how our contenders perform in the category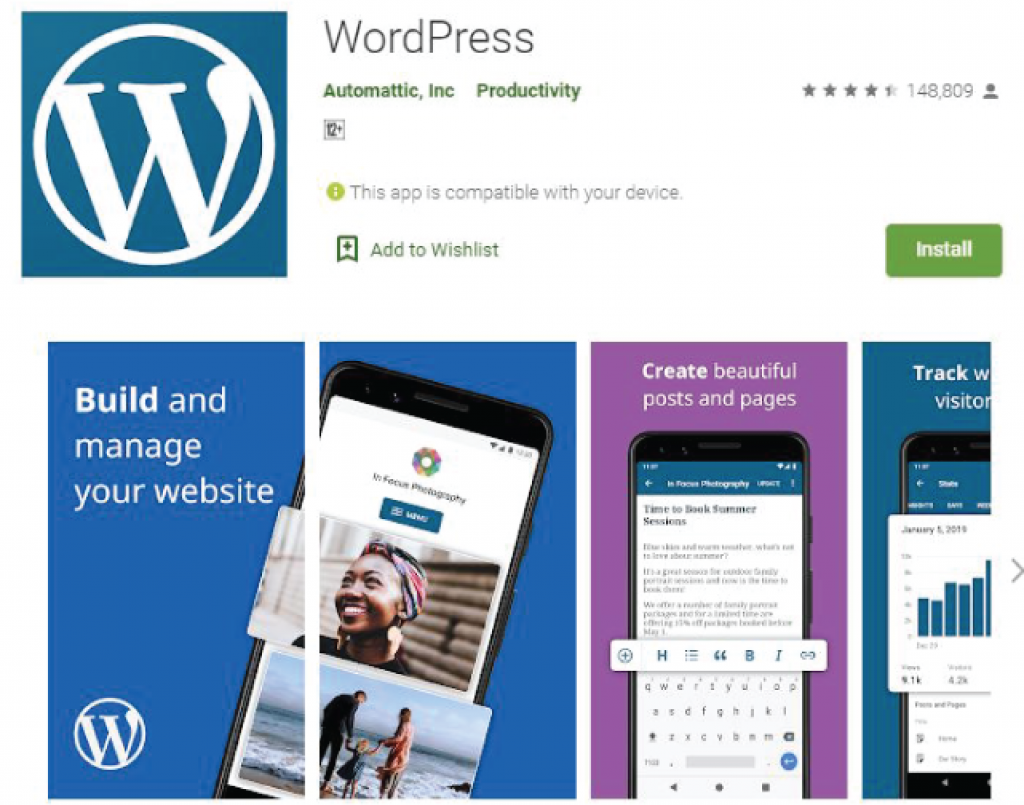 WordPress never fails to provide the best options. It offers a mobile app according to your device. You can choose from iOS, Android, or desktop app. 
You can draft posts, track your website's traffic and stats, edit and remove blogs and pages, add photos to your post, and manage comments, and much more.
The WordPress app is free to download from Google play store or apple store. You just need to connect it with your website and you are good to go.

Squarespace has various apps to manage your website on the go. You can easily track, update and edit your content through your tablet or smartphone. All apps are available on iOS and Android.
With WordPress, you have one app, but with Squarespace, you have multiple ones.
You can view the analytics of your website through an analytics app.
You can view, edit, share, and manage blog posts through a blog app.
You can manage your eCommerce store from the commerce app.
You can add images, update pages, write & edit blog posts, review pages and track analytics all from the Squarespace app, but it is only available on iOS.
Best Website Builder for Editing Through Mobile - Personal Preference
When it comes to mobile editors, both WordPress and Squarespace work just fine.
The only difference lies between the numbers of apps. If you want to manage everything from a single solution, then WordPress is the better choice as the Squarcespace app is only available on IOS.
However, if you believe that separate apps will be easy for you, then you can choose Squarespace.
Site Migration Comparison
As mentioned earlier, making an informed decision is important when it comes to creating a website; otherwise, you get into the hassle of migration.
When you migrate from one platform to another, it can cause your search engines rankings to dip, at least in the short run.
What happens if you choose WordPress or Squarespace and then change your mind down the line. 
In a perfect world, you have to stick to that particular platform forever when you decide on one. However, a situation may arise when you might need to switch platforms.
Your builder may not make it easy when you are leaving. But, yes, you can migrate to Squarespace from WordPress or vice versa.
Migrating content from WordPress is a bit easier. Being the most used website builder, it is compatible with many platforms.
You can ask your WordPress host to handle the migration for you. It is entirely dependent on the plan you have, but it can cost you around $100.
If you want to do it yourself, you can certainly do so by following this guide.
You have to make sure that you disable plugins and transfer files in the XML version while migrating from WordPress.
You can migrate blogs, pages, posts, tags, images, comments, attachments, etc.
When it comes to migration, Squarespace is a tricky platform. Though it has an in-built importing tool, there are limits to migrating content.
You can migrate basic content like pages, comments, images, text blocks, galleries, etc.
Apart from this, you still have to rebuild quite a lot. It is a step-by-step process, but the complexity depends on the type of website you have.
It will be easier to migrate to a blog site as compared to an E-commerce store.
In case you are looking to migrate from Squarespace to WordPress,check out this fantastic guide.
Best Website Builder For Site Migration - WordPress
Migrations can be a little bit painful, no matter what platform you have to move from. That being said, WordPress is our winner here as its easier to migrate content using the platform.
Any site builder comparison is not complete if the price is not compared. 
Before choosing any platform, consider how much budget you are willing to spend on a particular website?
Let's compare the pricing of both platforms.
While WordPress is a free to use, when it comes to upgrading your website with tools, templates, plugins, etc. you have to check your wallet. The costs entire depends on your website needs.
When you talk about pricing, you have to cover 5 major factors for your website.
You have to select a

hosting provider

so that you can install and store your WordPress site.

Many

themes

are free, but there is a great variety of premium themes with greater functionality and support.

If you want to build an E-commerce website, then you have to buy

E-commerce tools

.

You can download and purchase

plugins

from reliable websites.

To build an enhanced WordPress site, you require some coding skills and you may need to hire a

developer

.
You can choose from many fantastic platforms for hosting your WordPress site such as SiteGround and WPEngine
Purchasing a premium theme can cost you a one time price between $29-$299 .
In case you require to purchase a plugin,  it can  cost you around $15-$60 per plugin.
You also have to purchase a domain name, so it costs you $10-$14 per year.  
The investment on a basic WordPress website will range from $80-$150 a year  or higher.  

Squarespace Pricing is divided into four plans. The plans start from as low as $12 per month (billed yearly). The price of the plans ranges from $12-$40 per month (billed yearly). 
These are the final prices with full website requirements without any hidden costs.
Like WordPress, you don't have to pay separately for the hosting, themes, plugins, etc. If you sign up for the yearly plan, you save 13% or 24% compared to the month-to-month plan.
All of the plans provided by Squarespace have unlimited storage, free domain name in the first year, and 24/7 customer support.
The cheapest plan is the personal plan for $12 per month.
Next up is the business plan, which is $18 per month.
The other two plans are aimed at creating an online store, which includes a basic plan of $26 per month and an advanced plan of $40 per month.
Here's a plus, Squarespace comes with a 14-day free trial, so you can try it out before buying it.
Best Website Builder For Pricing: WordPress
If you want to create a blog site without advanced features, then WordPress is ideal when it comes to pricing. You can always upgrade your site using paid tools according to your needs.
You can use a free theme and plugins for a basic website. On the other hand, Squarespace has fixed payment plans and you may not need to worry about out of the blue price increases.
It's not easy to give a clear verdict as the costs depend on the type of site you have and it's configuration. But WordPress is our winner in this category because of the flexibility it offers with regards to pricing.
Squarespace vs WordPress - According To Type Website
Commonly, there are a few main types of websites, like; blogging, business, eCommerce, portfolio, services, etc. 
Here we are going to compare both WordPress and Squarespace based on the type and niche of websites. 
Let's see which one is better with regards to blogging and eCommerce websites.
A blog is basically a trimmed form of the real term – "weblog." A blog is a website that is regularly updated by one person or a small group. When it comes to content, you really have unlimited possibilities.
Even if your website is a business, you should really add blogging capabilities because it helps you pull in an audience and increase visibility through long-term SEO practices.
WordPress and Squarespace are among the best blog sites out there.
Let's find out which one is better when it comes to blogging.
As a blogging platfrom, WordPress is fantastic for beginners as well as professionals. It is free and open-source with unlimited flexibility.
Pros & Cons
Pros: The thing that makes WordPress ideal for blogging is that you can create fully customizable blogs. Its unlimited library of plugins will really help you grow your blog.
Cons: The only thing can be a  hurdle in your way of creating a great blogging site is it will take a little time to get used to. Otherwise, with WordPress, you have the most favorable platform.
Blogging Tools
This is where WordPress will beat any other website builder. Various tools are available for WordPress like Sendible, Fyrebox, Yoast SEO, and many more. 
These tools will help you save time and effort. You'll be able to work faster and lure in more readers (and clients) without compromising your blog's quality.
Many bloggers use Squarespace for building their blogs because of the visually appealing features it offers. But that's not all – Squarespace does allow a considerable level of adding personalization to your blogs, however its not as flexible as WordPress.
Pros & Cons
Pros: Like WordPress, you can choose through a library of templates, colors, fonts, etc. Squarespace may not beat its competitors in other aspects, but when it comes to aesthetics and design, Squarespace is just fantastic. 
It allows you to upload pictures and typography. And also, you may not even need to do so as Squarespace itself offers amazing design features (both paid and free). 
Moreover, Squarespace offers 24/7 support services and a very user-friendly interface. Just drag and drop, and you are good to go.
Cons: Before you opt for Squarespace, you should know it can provde to be costly. For a site above 20 pages, it can cost you more than $200 / year.
Just like WordPress, Squarespace offers design freedom. And your site may become heavy if your page size increases, causing an increase in loading time. 
Blogging Tools
Tools like Canva, Converkit, Buffer, Google Drive, Squarespace Metrics, and Grammarly, etc. integrate well with Squarespace, helping you save time.
Also, there is so much available on the interface of Squarespace that you may not really need a lot of blogging tools to add that extra spark to your blog.
Best Website Builder For Blogging - WordPress
Squarespace is quite visually appealing but still, it is more costly for blogging and does not offer free plugins or tools, except a few.
Moreover, users who are looking for customization freedom will also feel annoyed with Squarespace.
WordPress offers a variety of free plugins to help save time, and you have full control over your blog. So, WordPress is our winner here.
In today's roller-coaster world, nobody really has time to take out time every day and go out to buy things.
E-Commerce not only offers you ease, but it also offers a lot of choices as well. 
Let's see which platform is the best when it comes to eCommerce.
We have always been a fan of WordPress, and whenever someone asks us for go-to advice for building any website, we would end up saying, "Hey, why don't you try WordPress?" 
But when it comes to E-Commerce, you would need to splash some cash to establish a fully blown online Store.
Let's gauge the pros and cons of WordPress when it comes to E-Commerce.
Pros & Cons
Pros:  You have a variety of awesome eCommerce plugins to create an online shop in WordPress.  WooCommerce is undoubtedly, the most popular one.
What makes it handy is that just like WordPress, it is open-source. Plus, it offers amazing built-in features that will help save your time and effort. You can utilize various WooCommerce extensions to create any type of online store.
Cons: WordPress without WooCommerce is not exactly built for eCommerce online stores. Yes, it is quite flexible, and you can mold it into any form, but it may consume time and effort. 
Nevertheless, hundreds of eCommerce sites operating right now are built using WordPress as it has various other plugins available. 
Tools & Plugins
When it comes to plugins, WordPress is the king. Other than WooCommerce, you have the option to choose from various eCommerce plugins for your online stores, but you would need to select wisely. 
Firstly, you need to identify what you are selling; a non-physical product (like software, music, etc.) or a physical product that needs shipping.
In case you are only looking to sell digital products, a plugin such as Easy Digital Downloads would be a fantastic choice.
In case you are starting out and want to sell both physical and digital products, you can choose the easy to use Shopping Cart & eCommerce Store WordPress plugin.
Squarespace is in competition with the eCommerce giant "Shopify."
One thing that is even better in Squarespace is the quality of design features it offers. An attractive looking user-friendly interface really comes in handy to hook your customers.
Let's check out the pros and cons.
Pros & Cons
Pros: Squarespace's drag and drop functionality helps you design with ease, but it simplifies the overall development experience.
Another important thing is the cost. It costs a lot less than many other eCommerce website builders. 
Squarespace offers some very effective tools for your eCommerce site.
Cons: As much as you want to improve the design of your online shop, things can get a little complicated here.
Also, eCommerce sites tend to have hundreds of product logs. If you pay attention to the visual appearance of all these (or if you even copy-paste the transition effects you are using), your site can become quite heavy causing the load time to increase.
For eCommerce, buffering is like pushing away your customers deliberately.
Tools & Plugins
There are some great plugins for Squarespace out there, and all of them are quite attractive.
For example, when you click on something such as a size chart using the "Light Box Anything" plugin, it pops up and becomes highlighted – the background gets dim.
Similarly, another great plugin is "Square Certify". We know that social proof can dramatically boost your sales. And also, this plugin is specifically for Squarespace and costs a lot less than other social proof plugins.
Best Website Builder for eCommerce - Personal Preference
In case you are a WordPress user and looking to develop a high end eCommerce store, then you should stick with WordPress. 
In case you looking to develop a new E-Commerce store, then Squarespace would be ideal as things can get complicated with WooCommerce.
Squarespace has built in eCommerce features and its a lot more convenient to develop an online store from scratch. However, the WooCommerce plugin can give you more power over your eCommerce store.
Final Verdict - WordPress or Squarespace - Which is the One Best For You
Now let's move to the burning question, which website builder is better overall.
There are pros and cons to every site builder. You have to choose the one that suits you best features and fulfills your requirements. The most important thing is to know  which one covers all your individual needs.
So, when comparing WordPress and Squarespace, we should know that most websites in the world are developed using the self-hosted version of WordPress. 
On the other hand, you can also design fantastic sites with Squarespace. It offers 24/7 support, hosting and domain name, etc. which is not provided by WordPress.
But Squarespace lacks freedom & flexibility, which is offered by WordPress. Freedom of using any plugin, freedom of unlimited customization, and also, you don't really need to spend extra other than domain name and hosting until the need for paid themes or plugins arises. 
Squarespace can prove to be more costly. Moreover, the control and ownership of your site you have on WordPress is not something that Squarespace offers.
There are pros and cons attached to each of our two contestants. More importantly, the choice here really depends upon the purpose and niche of the website you are trying to develop. 
In our detailed comparison, we see that out of the 13 categories compared, WordPress takes the lead in 8 and Squarespace takes the lead in 3 , while we have left 2 categories to personal preference.
Liked this article ?
Also check out: Wix vs WordPress